Apologies for going all crass and commercial, but the truth is that now is the time to do your online shopping for Christmas. (That would be Christmas 2013 – delivery delays are not yet that bad.) Pretty Rock Designs has your Christmas and Holiday Season requirements in the bag: cards, decorations, gifts, wrapping paper, and more.
Cards
Nothing says someone cares quite like a physical card in the mail, doubly so if it's as beautiful as a Pretty Rock Designs card. If you're planning to be that someone who cares you'll need to give yourself the most time to receive, write and post your cards before the big day. Pretty Rock cards also make wonderful gifts on the day as gift tags with your own special message, or as a pack of blank cards for your friend to pass on to others.
Every single image in the Pretty Rock portfolio is available for purchase as a 10cm x 15cm postcard, 10cm x 15cm greeting card, or 12.5cm x 19cm greeting card. All cards are blank, and suitable for all occasions.
Decorations
The next things you need to get organised are your decorations so you can enjoy them for as long as possible. You'll find Pretty Rock Designs tree decorations in our Pretty Rock Empire Cafepress shop.
These are some of the most popular, based on the design Marcasite Star:

All decorations come in these three shapes (the round ones come in metal or ceramic.) Different designs work best in different shapes.
The Pretty Rock Empire shop also stocks a wide range of buttons (badges) and magnets to brighten up your refrigerator, yourself, or your curtains. Prices start at only a couple of dollars. This is the Risky Bismuth 2.25″ Button:

Many designs are already available in the shop, but not all images in the Pretty Rock Designs portfolio have been applied to these products. If you see something in the portfolio you'd like to put on a decoration, drop us a line at prettyrockdesigns@gmail.com with a request and we'll see what we can do.
Gifts
Where to begin! Anything in the Pretty Rock Designs world works well as a gift, but the choice can be a bit overwhelming. Here are a few of the most popular items:
Calendars
Pretty Rock Designs wall calendars contain 12 months of large glossy chronological goodness, each month featuring a colourful and amazing Pretty Rock Designs print. More information about wall calendars.
Mugs
Be the envy of the office, home, or lab with a Pretty Rock Mug. Treat that caffeine with the respect it deserves. Mugs are available from the Pretty Rock Empire shop in a variety of sizes and styles:

This one is Asteroid Belt (Marcasite):
Jewellery
Beautiful pictures of glorious minerals on earrings, necklaces, bracelets, decorations, and more.
Mounted and Framed Prints and Posters
The entire Pretty Rock Designs portfolio of more than 400 amazing images is available to order in a variety of print formats, from unframed posters, glossy photographic prints, lightweight but sturdy foam core mounted prints, matted prints ready for your own special frame, ready-framed prints with a range of choices in frame and matt colours, and canvas prints.
This is Uncertain Edges (Lace Agate) in a box Cherry frame with off white matt: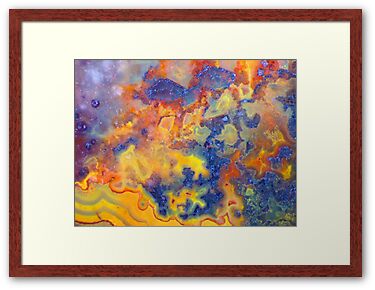 This is Wetland (Charoite) as a canvas print: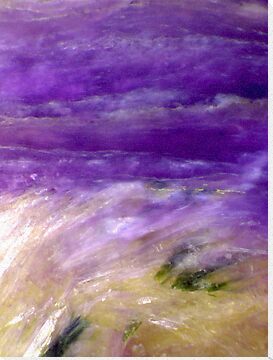 Mounted prints include the option to add Title and Artist information, for that gallery presentation feel. This is Gazing Seaward (Fancy Jasper) with a white border and title/artist:

Not sure what might appeal to a friend, or what might match their couch? Redbubble gift certificates are a good option that allows your special someone to choose the perfect print for their own space. These certificates are not limited to the Pretty Rock Designs range, but it would be nice if you were to drop a hint or two in that direction. There's a Pretty Rocks Design for everyone and every home.
Fabric/Craft
Pretty Rocks On Frocks fabric designs are  available worldwide as wonderfully colourful and unique fabric prints from Spoonflower, the print-on-demand custom fabric shop. Spoonflower offers the choice of 11 quality organic fabrics from the delightfully floaty Silk Crepe de Chine, the quilting-friendly Kona® Cotton Premium Quilting Weight, to the sturdy Linen-Cotton Canvas, just perfect for bags and upholstery.
Ordering Pretty Rocks On Frocks fabric.
Treat a crafty friend to a selection of stash-friendly fat quarters to have on hand for any occasion, or let them choose their own. Spoonflower gift certificates are a good option that allows your special someone to choose the perfect fabric or paper for their own projects. These certificates are not limited to the Pretty Rocks On Frocks range, but it would be nice if you were to drop a hint or two in that direction.
Gift Wrap/Craft Paper
And finally, how better to present your thoughtful gifts than wrapped in high quality Pretty Rock Designs wrapping paper? Most Pretty Rocks On Frocks fabric designs are also available as gift wrap.  This one is called "Life, Pending (Obsidian)":

For US$15 you get a generous roll of 26″ x 72″ (66 cm x 1.8 m) in a heavy satin or matt finish quality paper. It's also a very cost-effective way to see how a fabric design might look in larger scale.
Here's another, called Cave Kitty (Rainforest Jasper):

…and the same product as it might look wrapped around a special gift:

This high quality paper also makes great craft material.
If you can't find the gift wrap option on a design, drop us a line at prettyrockdesigns@gmail.com and we'll fix that right away.
This has been a small introduction to the mind-bogglingly large range of Pretty Rock Designs products out there, but it's a place to start. Browse, enjoy, talk to us, and please buy or pass the word.